How many people can you fit in our apartments? The maximum capacity of the whole block, including those extra beds, is 20 guests, which means 5 people in each of the four apartments. As soon as you step through the entrance door, everything is clear to you- 4 apartments, 2 on each floor. This option offers not only privacy for each family, but also the opportunity to be together when you want to.
You have privacy, but at the same time you are all together in one block
Kids can be running around between apartments and discuss daily experiences, but not to lie, also play games on their phones or tablets together, or watch what's new on youtube.com. Adults have the opportunity to get together also, either at someone's apartment or at one of those large balconies overlooking the High Tatras and enjoy a chilled beer or a glass of wine.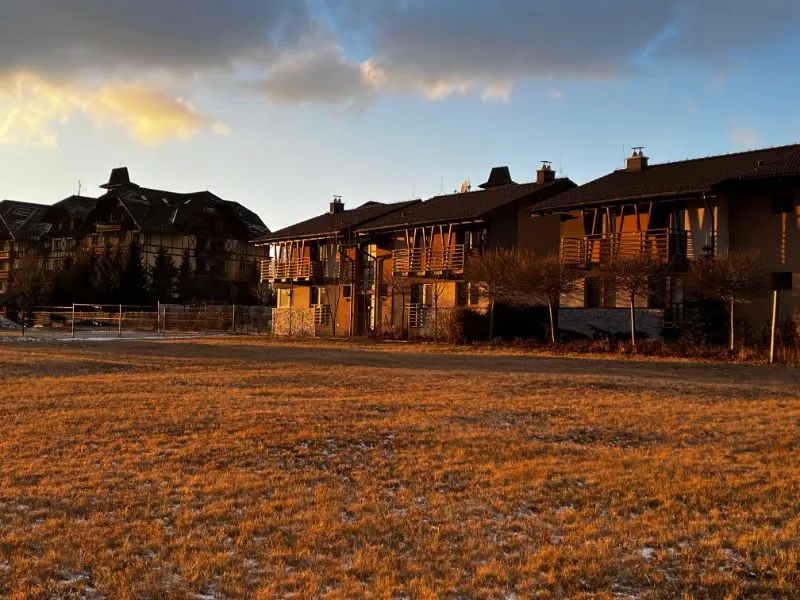 Garden and parking
The more the merrier they say. The more kids you bring the more fun they will have together. In our large garden there is a lot of room for their own fantasy. In addition to the "wooden" part of the garden, we also have a maintained grass area, where kids can go crazy. You can learn more about the garden here. Parking is not a problem. We have 1 parking space inside dedicated for each apartment and you can also find a lot of street parking on the access road. You can learn more about parking and transport options here. If you prefer transportation other than your own car, you can easily reach us by train or bus.
What else to visit if not the mountains?
In addition to the High Tatras, you have many other interesting places in the area to see, such as Spiš Castle or the town of Levoča. You will find all the interesting places in this article. Speaking of interesting places, have you seen the well-known altar of Master Paul of Levoča? Or the UNESCO World Heritage Site, the Articular Church in Kežmarok? Whether you are a frequent visitor of monuments and churches or not, it doesn't matter. This church is really beautiful and you will be talking about it to your neighbors at home.
You can see availability dates and prices on Booking.com. Or discover our Secret prices!
The more people to come, the more fun to be have.

Petra & Majo