We have something special for children
Often we welcome in our apartments the youngest guests and therefore it's important we provide comfort and advantages for them and their parents. We put together this list of all the children equipment that you find at our apartments for the little ones.
Don't forget to let us know in advance, you will be coming in with a little traveler, so we can prepare everything.
Our satisfied guest rate highly that there is carpet in the entire living room space. It's a high quality hotel carpet that is safe for those children who are ready to crawl around and explore. And let's be honest, it's better to be on the carpet than on some cold tiles. Other equipment we can provide is also great. We are coming from our own experience with a toddler ourselves and trying to provide you with all that we would appreciate on vacation.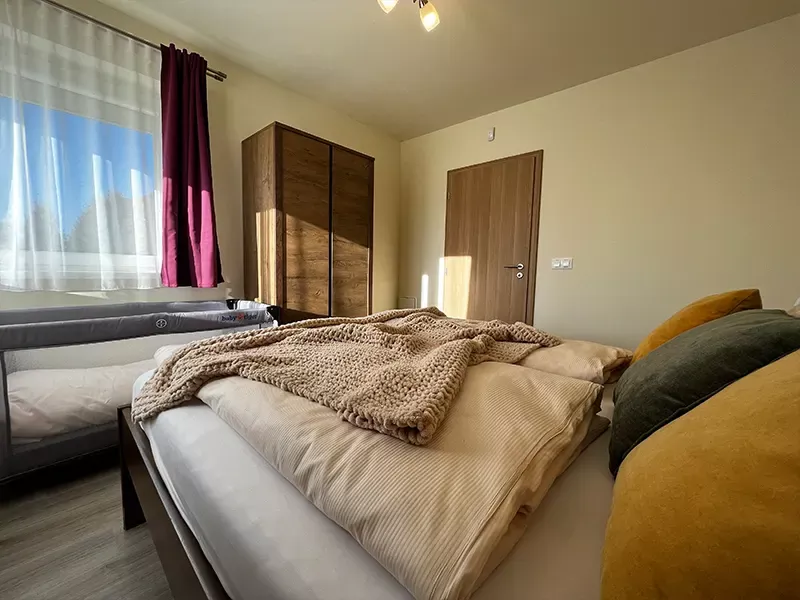 Bathroom has a shower for adults and those little kids able to stand. But for the little ones, we have a nice baby tub. You will use it for children up to maybe 2 years of age, or until they are ready to shower like big kids. And after a nice bath, it's time for some delicious dinner. By the way, there is a microwave ready for you, if you just need to heat something up, because let's be honest with kids you often need to. And since we like for the family to eat together, children have their own high chair ready to be pulled up to the table.
After dinner, it's bed time. If your little ones are still sharing a bedroom with you, it's not a problem in are large rooms. In the room, right next to the bed we will have a crib ready for you, with all that you need- comfy mattress, small pillow and a kid duvet cover. All for a good night sleep of not only the little ones but parents as well. If you come with a older child, that is already potty trained, but still not totally ready for a big toilet, we give you a toilet reduction. We want for all of our guests to fell as comfortable as possible.
We believe that these little extras for children will make your vacation even more enjoyable and that you will be happy you won't need to fit everything into your car and bring with you. Once again, let us know in advance you will be coming with kids, so we can have it all ready for you in the apartment when you check-in.
If kids can't sleep, turn on some fairy tales from www.youtubekids.com
More information about our apartments