Directly below your windows you have a view of the spacious garden. In order to adhere to the tatra's nature, there are small bushes under the windows and a few coniferous trees with the ground dotted with woody barks. The garden gives our apartments the right tatra's feeling and according to many guests it is very tastefully done. From the ground floor apartments you can even walk through the balcony directly to the garden and enjoy your morning coffee or green tea.
However, we need to think of children as well. They probably would not appreciate our "wooden" garden for their activities. So for them, we have a large, well-kept, grassy area within the complex, ideal for football, badminton and chasing. And soon, we will have climbing frames, so there will be more to do. If you decide to go out and for a change someplace else than the mountains, get inspired by our tips on places and cities to see in the area.
Garden for family barbecue
In the garden you will find a large, enclosed gazebo with a barbecue. The gazebo can comfortably accommodate about 12 people. Thanks to our spacious apartments, you can learn more about them here, up to 20 guests can fit in one apartment block. But there is no need to worry, you will all be accommodated with us comfortably. Like almost every family or a group of friends, in case of nice weather, the gazebo will most likely only serve as a food storage or as a place to serve food, because most of the time you all will be outside in the garden.
When grilling, of course, you want to be outside and not to be locked in the gazebo. In addition to the grill, we are preparing a large fireplace for you, where you can reminiscence of the past in the circle of family and friends. We have a charcoal grill and a wood fireplace, of course. You have the opportunity to buy a supply of "fuel" either at the gas station or in a store, but, of course, we can also provide it to you. After all, we don't want the fire to burn out at its best.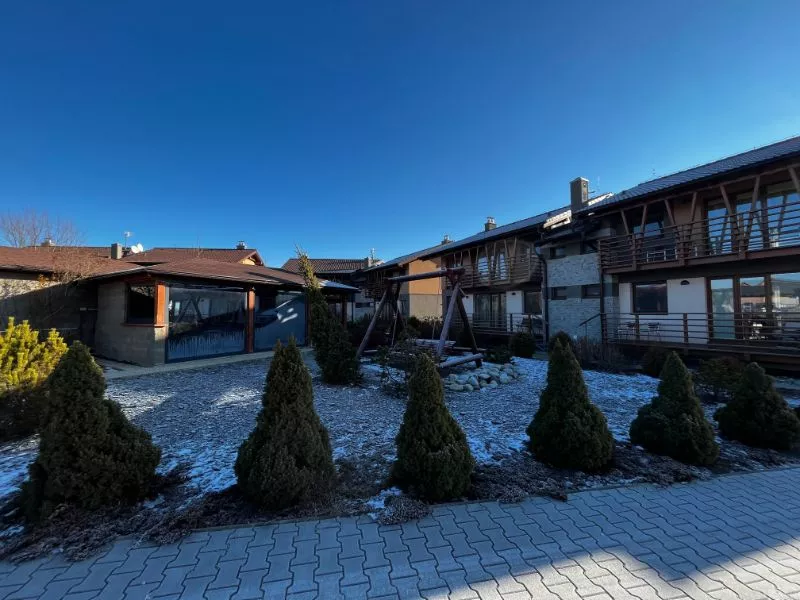 Morning coffee overlooking the High Tatras
Many people have their own little morning ritual and it is morning coffee or tea. Simply something that will prolong that morning time until the body completely wakes up. This ritual is even more special with us. Especially when the weather is nice, the tatra mountains in the morning are bursting with colors like orange, light blue, green or white. Lots of colors and always a different sight of High Tatras to see.
In our Apartments Friends Tatry you can enjoy these colors while pouring your morning coffee or with all your senses while sipping that coffee on the balcony. The reason for this is that this beautiful view is visible from each apartment. See those views in this article. We have the windows facing both the village and the adjacent soccer stadium, but especially the High Tatras. However, we will not lie, it is not a view ala Kempinski, but you will definitely enjoy it.
You can see availability dates and prices on Booking.com. Or discover our Secret prices!
While you are enjoying your coffee on the balcony, you see the kids running around in the garden.

Petra & Majo