Advantages you will appreciate
The biggest advantage of our apartments is large space and reasonable layout. If you are a frequent travellers, you will definitely find this as a huge plus. There is a place to hang your jackets, to open that overpacked suitcase and even kids can still run around. You feel those almost 80m2.
If we compare ourselves with the nearby accommodation complex, with us you have that space to breathe. It means that you can walk out to one of your two large balconies. It is up to you if you sit down to enjoy beautiful views of Tatra mountains in the summer, or just peaks out to take in that chilli winter air.
Without a doubt, large kitchen is our next advantage, and it's proportionally sized for the apartment needs. We don't give you a small kitchenette with a double plate and microwave, but instead we offer you a spacious fully equipped kitchen with a lot of working space, stove, oven, other kitchen equipment and of course a full fridge with a freezer. Simply, you get the space to cook whatever you feel like and save money on eating out in restaurants.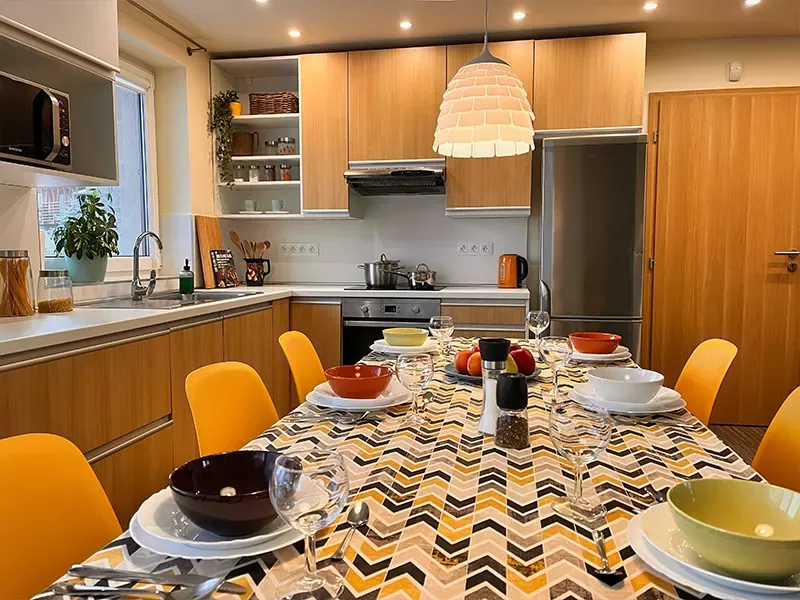 Let's watch it!
Each apartment has a satellite connection with lots of tv channels. Not 10 or 20, but currently we offer over 130 tv channels. You can relax watching movies, documentaries, kids can enjoy their favorite shows and men will be delighted when they find 12 sport channels, including the English Premier League and Champions League. For those speaking Hungarian, we have a special package of 10 most popular Hungarian tv channels.
We can modestly admit, that another advantage you won't find anywhere else is us, the owners, Petra and Majo. We take care of cleanliness, we take care of maintenance and we want to get your best reviews in return. We are not employees and therefore we have a different bond towards our apartments and specially towards our guests. It's all personal with us compared to a cold hotel front desk.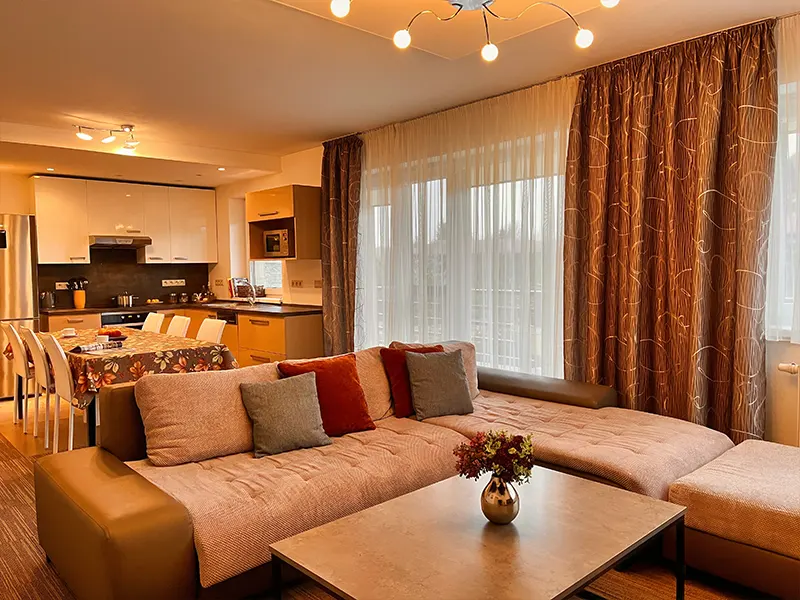 We are not watching you
Another advantage is that we don't live with you in the complex. There are a lot of other apartments, pensions or private accommodations where the owners are with you in the same building, in the same house. Some might be okay with that, but let's be honest, if we went on vacation, we would choose the option to be separate from the owners. We only live a few minutes away from the apartments, so if you need us or anything, we are close by.
Another big advantage for our foreign visitors is that we speak English. Yes, today it's not a big deal in the world, but trust us when we say that in Slovakia, it can still be a little problematic to find people who can communicate in English. But we can, so if you need us, don't hesitate call or message us.
We believe, that our advantages captured your attention and you are thinking about a stay with us. We only mentioned some advantages here, but there are definitely more like early check-in, late check-out, spacious gardens right under your windows etc. You can read all about these in other articles.
Are you thinking about skiing ? Current slope conditions can be found on www.vt.sk
More information about our apartments