When we decided to move to the High Tatras a few years ago, the main reason was nature, fresh air and peace. And those mountain views. Although they are not huge Alps, they are our Slovak Tatras, that we fell in love with. We are convinced that for the same reasons you are coming to the High Tatras as well. You will find nature around the mountains everywhere, but mainly on your hikes and trips, directly under those coniferous trees.
The fact that we are in a town directly below the tatra mountains means that although, we do not have a view from the windows like in Štrbské pleso for 1000 € per night, but you can enjoy those sunsets over the mountains with its panorama and beauty.
Views from the apartments
Every single one of our apartments has windows facing three sides, which provides not only plenty of daylight inside but also a view of the garden, parking lot and most importantly, the already mentioned High Tatras. You can learn all about the rooms and equipment of the apartments here. Many of our guests have already experienced those exceptional tatra's mornings or unforgettable sunsets on the balcony facing the High Tatras. It's great to have your morning coffee on the balcony looking at the orange mountains with the fresh morning air.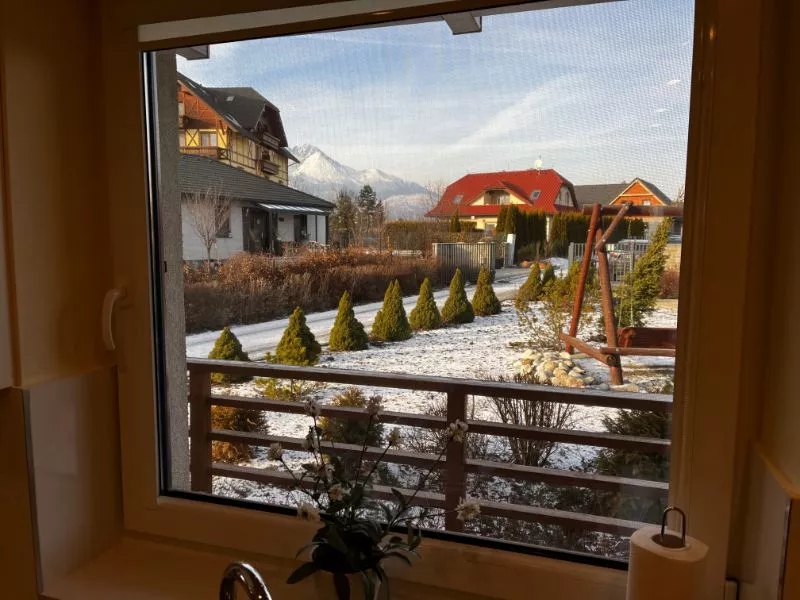 Places you can't see from the windows, but you can go to see
In addition to the High Tatras, there are many other interesting places in the area to see, such as Spiš Castle or the town of Levoča. You will find all of these interesting places in this article. Speaking of interesting places, have you seen the well-known altar of Master Paul of Levoča? Or a UNESCO World Heritage Site, the Articular Church in Kežmarok? Whether you are a believer or not, it doesn't matter. It's beautiful and you'll be talking to your neighbors about it at home.
You can see availability dates and prices on Booking.com. Or discover our Secret prices!