Baby cot with a high quality mattress
Our apartments offer generous space, but you already know that. For this reason, it is not a problem to find that extra space for the fifth member of the family, even for the youngest one. Each apartment has a large sofa that is ideal for such needs. It is a pullout sofa and we can prepare it so that another person can comfortably sleep on it during your stay.
Of course, it's a little bit at the expense of the living room space, as we unfold the sofa, but it's totally up to you to decide whether you keep it unfolded the whole time or you fold it up in the morning and unfold it again in the evening before going to bed.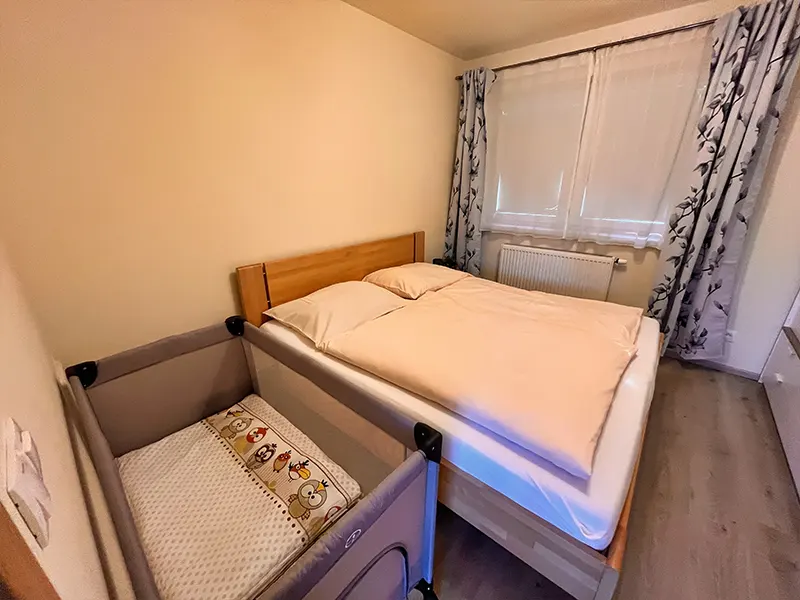 Children, especially the youngest ones, have different needs. We have prepared a small portable baby cot with a high quality mattress for them. Where else would a little boy or a girl feel the safest than his or her parents. Thanks to the size of the bedroom, we can put this baby cot directly by the parents' bed so that they have the situation under control as best as they can, or so that the mother can calm down even the slightest hints of bad dreams.
Extra pullout bed and a baby cot are benefits that matter to us. We want the whole family and all its members to feel good when staying with us.
If you are missing anything for your child, you can find a baby store in Poprad www.maleja.sk
More information about our apartments